Our mission is to provide world-class relocation services offering innovative, seamless relocation management programs to serve both the corporation, "our client", and the relocating employee, "our customer".
Our business approach is based on strong management and full commitment of all our employees and is subject to continuous improvement. The company is committed to provision of a superior services with as principal characteristics quality, reliability, capacity, competence, flexibility, integrity, business ethics and client/customer satisfaction with full attention for corporate social responsibility and environmental circumstances.
We excel at solving relocation challenges by providing the most essential and comprehensive solutions. We commit to never engage in any activities that would dilute our dedication to our account client base. We provide the service right the first time.
UAPL having their offices and counterparts in 90 countries provides complete relocation solutions for the international transferees of multinational companies in these countries as well as in most other countries. The UAPL Headquarters functions as the single point of contact quoting and billing for the whole world.
We are confident that our core value of cost reduction, top service, and benefits programs coupled with true interactive technology, dovetail perfectly into our client's global mobility goals. Our client satisfaction and retention over the past years show us that our values, culture and total employee commitment to service is working to its best.
Our trucks all have air suspension, climate control, remote track-and-trace and alarm systems built-in. They all are equipped to maintain temperature and relative humidity, even during the most severe conditions, winter or summer.
As part of our commitment to reduce our carbon footprint, we are increasingly selecting vehicles for their environmental performance as well as safety.
For air transportation, our supervisors will oversee palletisation and loading, accompanying artworks at every stage in the transfer from truck, via customs, to aircraft loading and back.
Where artworks are carried by hand, we assist your couriers throughout the transportation stage, including through customs and onto the aircraft, ensuring that artworks are safely handled at all times.
Artlines
It is always our intention to find efficiencies for you and if you are in agreement, we will look to consolidate shipments. An example of this is our regular Artlines service which is available to our European & Indian clients. Consolidation is available in many of our other offices, volume and service requirement permitting.
Dedicated shipments
UAPL  dedicated shipments imply additional security and safety in fine art transportation. We give you greater control of the timing and ensure less handling of your shipment.
Even at this level of service it is possible, especially within UAPL's network, to economise with more efficient use of capacity.
Air freight
For air transportation, we offer a seamless air freight service, including all handling, brokerage and also witness loading supervisors and courier escort.
International sea freight
We also offer sea transportation for monumental works, or for large collections where there is more time available and container shipping is suitable. This is often a more economical method of transportation than air freight.
Customs and legal procedures
For international shipments, UAPL offers a complete service, taking care of any complications of customs procedures for both import and export shipments.
We will arrange all the necessary paperwork and, if required, supervise inspections.
Art and Museum Transportation Services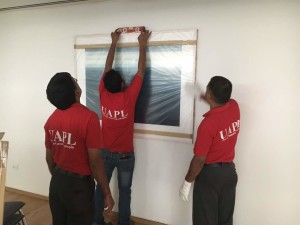 When you need to ship art or museum-quality pieces, count on FedEx Custom Critical. Our team understands your needs and that every piece of artwork is unique. Whether you are moving a single piece or arranging a multiple-stop exhibition tour, we have the knowledge to properly handle the shipping requirements for registrars, galleries, dealers, collectors and auction houses.
Our core service includes:
Exclusive-use, direct service available with a truck sized and equipment matched to meet your artwork's needs – whether you are shipping paintings, sculptures, fabrics or other fine artwork.
Pickups and deliveries available 24/7/365 to meet your schedule or changes in your schedule.
Continuous shipment monitoring with two-way satellite communications.

Additional Care and Security
Your art will receive the care-in-handling it needs with our special equipment, from full-range temperature control to power liftgates, pads and straps.
We offer a wide range of Secure Transportation Services that protect valuable shipments from theft or damage.
Accommodations for couriers upon request.

Air Solutions
With our Air Expedite Exclusive Use and Air Expedite Network services you can choose even faster options.
Drivers are available to monitor your shipment until it is loaded on the aircraft and from the moment it's off loaded.
A variety of Air Expedite security and monitoring options are also available.
Couriers are available to fly along to monitor shipments in the air and on the ground upon approval.
Expert advice is always available
We are always enthusiastic about sharing our knowledge with the museum community.
Our Fine Art specialists are often consulted on technical matters, such as packing, special handling and supporting works, on preservation (storage conditions and appropriate buildings) collection management and conservation.
We are invited to advise on government committees, to give lectures and to teach. Some of our people can be hired to accompany projects, give their advice or manage your project. Their experience, built on working for many organisations and with varied collections, is always available to you.
Extra hands when you need them
UAPL provides project management services working in-house, typically to assist with exhibitions.
Our experienced and highly trained art handlers are available to support your teams working as art technicians within your museum.
They can be hired to perform day-to-day tasks or, more commonly, to assist during the installation or dismantling of an exhibition, temporary or permanent.
We also provide outsourced registrar services giving you more support when and where you need us.
Careful installation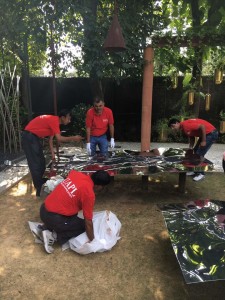 Our technical experience in handling works of art makes us a wise choice for any installation.
We know how to plan installations from the smallest to the largest objects, from an art fair with hundreds of paintings, to an outdoor placement of a monument or sculpture.
Crucially, our people are well equipped to manage technical installations in the safest and most appropriate way.
From a single piece travelling from gallery to collector, to record breaking buys leaving elite salerooms for new homes on the other side of the world, or exhibitions of priceless masterpiece moving to the next landmark on their global travels.
We maintain our own fleet of fully equipped vehicles, customised specifically for the transportation of fine art by road throughout the UK, Europe and the USA. These are manned by security cleared driver/technicians, expertly trained in the handling and installation of fine art.
Our road fleet
Our specialist fine art transportation vehicles have been designed and customised to protect and secure the most precious and delicate works.
We operate a variety of vehicles so as to be able to suit the specific needs of each assignment, and the fleet includes vehicles devoid of all branding for use where discretion is paramount.
Each vehicle has a fully lockable, insulated, windowless, rigid-sided freight compartment, which cannot be accessed from the driving cab, and is equipped with high security locks and alarms and mobile communications, as well as satellite tracking pinpointing its precise location in the India, UK, Europe and USA.
We can provide a variety of vehicle specifications including heavy-duty tail lifts, internal and external CCTV, air-ride suspension, full temperature control, barred and padded cargo areas, alarms, telemetrics, satellite tracking and additional seats for couriers.
On-board expertise
Each vehicle is manned by two or more uniformed technicians, who are qualified drivers and trained art handlers, who will undertake packing, unpacking and installation on site, as required.
Their training and expertise ensure ability to carry out expected procedures skilfully and efficiently, and to deal with unusual and unforeseen circumstances promptly and effectively.
Air Freight
Over many years, we have developed an intricate and specialised knowledge of the complexities of air freight and airport security as they relate to the shipping of fine art.
We cultivate excellent working relationships with all airlines and local handling organisations, ensuring the quick and safe passage of our consignments through airport cargo warehouses.
We have privileged airport security clearance, including full airside access if required. This enables us to supervise and witness your consignment being secured on pallets or in containers, and being loaded on and off the aircraft.
Sea-freight expertise
Our expert fine art sea-freight team advises clients on viable container options, depending on the size, weight and nature of the pieces to be transported.
For maximum security and protection, we recommend sole-use sea containers. These afford UAPL complete control over the loading and securing of the artwork at the point of origin, ensuring also that it is unloaded only at its final destination. Where required or requested, temperature controlled containers are available.
We are able to provide full port supervision of consignments throughout their journey, where this is required.
UAPL maintains strong working relationships with leading international shipping agents , enabling us to advise on the most cost-effective and time-efficient routing options to your destination.
Our regular sea scheduled services
We provide scheduled Groupage and Full Container Services Worldwide, including our own dedicated inter-facility services to and from Europe and the USA.
We work closely with organisers of Art Fairs, involving ourselves as early as we are able in the event's planning.  Our experience makes us an invaluable partner in dealing with every aspect of a Fair's organisation, no matter where it is to be staged or how many dealers and galleries will exhibit.
Our sophisticated logistics planning enables us to handle a Fair's full logistics requirements for collecting works from dealers, processing them through customs, holding works in our secure storage facilities and dealing with all installation (and later de-installation) at the Fair site.
Exhibiting at Art Fairs
Our Art Fair specialists are also pleased to assist dealers and galleries showing at Fairs anywhere in the world.
We are able to make all arrangements to gather, pack and ship your works to specific shows, and to handle delivery of sold items to buyers around the world.
We can also manage your complete international Art Fair itinerary, installing and de-installing at each event, shipping your full show on to the next Fair at which you are to show, and managing and replenishing your inventory for you between or during Fairs as required.
---
UAPL Work